I've always been a vinyl fan, and nowadays, when most of my music acquisitions are digital, I'm finding that when I do pick up music in hard copy the format is more likely than not a record. There are really lovely releases about, and in this episode I highlight I few that I've recently picked up.


The Transistors recently released an 11 track 45rpm 12" LP, Shortwave, on green vinyl with hand printed covers. The band take their influence from 70s punk rock and sound a bit like some of the very early American hardcore groups that were drawing on the same sources. With 11 songs in 21 minutes they don't mess about about - the LP is heaps of fun. On the video page you can see a clip of The Transistors playing a roof top gig in their hometown of Christchurch, a gig that ended in a fine and a facebook protest page. You can also hear a live-to-air rado performance from The Transistors on RDU here.

The Tape Man is a mysterious figure who takes to the stage with his face covered in duct tape. (How is duct tape like The Force? It's dark on one side, light on the other and binds the universe together) His music is instrumental reverb drenched surf guitar. Tape Man (he seems to have dropped "The Mysterious" from his name) has just released a four track 7" EP Songs of the Tape Man that remains true to the sound of his earlier releases although the side A has a dirtier, more distorted sound than we've heard before.


Bratty teen no-wave pop band Moron Says What have followed up an excellent CD EP Pop Up with a split 7" with Finnish band Dinosauruxia single on tasty pink vinyl. The single has one song from Pop Up and two new tracks. Too be honest it sounds like it was recorded in a cardboard box but the band have an infectious catchy charm, reflecting their youth and enthusiasm. If you buy the single from Under The Radar you'll also get the songs as mp3s. There's a good background interview with Moron Says What at Artrocker.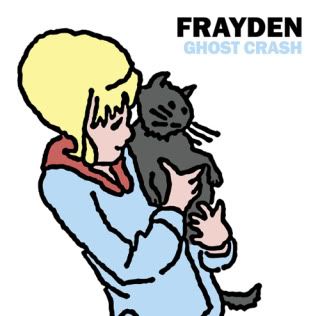 Auckland three-piece Frayden have released a really impressive vinyl LP called Ghost Crash. They play grungy guitar pop that The Herald's Scott Kara described as "dirty and grubby . . . yet deliciously catchy thanks to their love of melody and the fact they're not afraid of a little jangle. "

Body Corporate's album Howlaround has actually been out for quite a while but I realised that I hadn't featured it despite it being one my favourite albums of recent years. Body Corporate have a big textured dual guitar based sound, the kind of all encompassing dynamic soundscape that I love so much. The album is beautifully packaged with detailed artwork that can only be truly appreciated in it's 12" format, and it sounds fantastic, mixed by Dale Cotton (HDU, Toy Love, Collapsing Cities etc) and mastered by Bob Weston of Shellac. For fans of Bailter Space, HDU, Jakob etc this is recommended as a must have kiwi album. There's video for the song 'Bubblegum' on the video page.

In these days of record shop retrenchment it can be difficult to track down vinyl releases but Slow Boat Records in Wellington usually has a good selection and there are a number of websites that have set up vinyl stores - Under The Radar, Cheese on Toast and Smoke CDs.



Download the Counting The Beat - Round Like A Record podcast

Don't miss the next episode of Counting The Beat:
Counting The Beat Podcast RSS