I've got a bit of a thing about collecting songs named after New Zealand towns and locations and every once in a while I put together a Counting the Beat special featuring some of those songs. In this episode I focus in on a specific part of our country, the Waikato.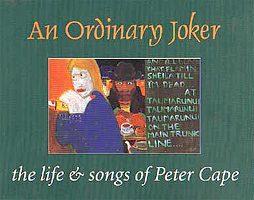 Waikato is where you will find the town that lent it's name to one of our best known place name songs, 'Taumaranui', who's heyday as a mid journey stop-off town in the days of rail was immortalised in song by Peter Cape. The song was initially banned by the NZ Broadcasting Service because of it's reference to the "sheila" serving tea.



The largest city in the Waikato is of course Hamilton, a city often ridiculed by those who don't live there for being a boring backwards place full of farmers. The Big Muffin Serious Band, a good time folk band who hail from Hamilton themselves, also have a go at lampooning the place on their song 'Hamilton'. The Big Muffin Serious Band have released two albums, Jabberwocky Goes to Town and Heavens to Murgatroyd. 'Hamilton' was written by Chris Thompson who also has a more serious folk career. His latest album Snapshot is available through Amplifier.

In the city of Hamilton you'll find a suburb called Hillcrest. That suburb was the subject of a an instrumental number called 'The Hillcrest Incident' by an unlikely outfit, The Hollow Grinders, unlikely because they're a surf guitar band in a land-locked city hours from the sea. You can download this song and a handful of others from the band's website.


Further up State Highway 1, towards the Northern reaches of Waikato, you'll find Huntly, a place best known for the two huge chimneys on the thermal power station sitting just out of town on the Waikato River. Surprisingly I have not one, but two songs about Huntly. 'What's Wrong With Huntly' by Hugh and The New Zealanders started as a gag but became a student radio hit and a popular download on Amplifier. The song 'Down in Huntly' is by The Winchesters, one of a clutch of bands that emerged a year or two back that were heavily influenced by The White Stripes and The Black Keys. After a bit of a hiatus while band members travelled they are back on the scene. Their 2008 4 track E.P. is a cracker.

Finally, a song not strictly named after a location but after an incident named after a location, 'The Battle of The Waikato' by The Howard Morrison Quartet. The HMQ were an all-round entertainment group delivering a a stage show of musical comedy, often playing on the fact the band were all Maori. 'The Battle of The Waikato' was recorded live on stage in the Auckland Town Hall and was released a single in 1959.

There are a couple of earlier place name specials here and here.


Download the Counting The Beat - Waikato podcast

Don't miss the next episode of Counting The Beat:
Counting The Beat Podcast RSS